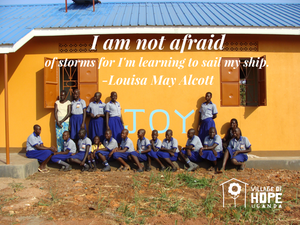 When the Village of Hope was first being built, Rose and Cindy had the vision and intention that the children should always have a sense of safety, future, hope, and stability.  The loss of home, parents, siblings, friends,  entire villages destroyed, was fresh in their hearts and minds, and they were just beginning to recover.  These children needed to rest in the safety of God through the things He was providing for them at the Village of Hope.  One of the first things they did as they were building the homes that the children would live in, was to decide...
---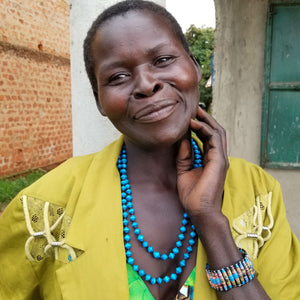 "Who shall separate us from the love of Christ?  Shall trouble or hardship or persecution or famine or nakedness or danger or sword?  As it is written, 'For your sake we face death all day long; we are considered as sheep to be slaughtered.'  No, in all these things we are more than conquerors through Him who loved us."  Romans 8:35-37   This is a photo that was taken during our "modeling shoot" in preparation for our website.  We had a blast together that day, feeling joyful and just having fun modeling the jewelry that these women made in faith, to earn a living.  I...
---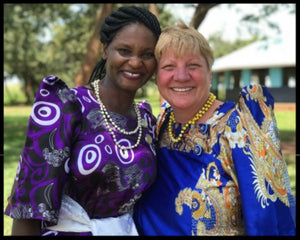 10-Year Anniversary Celebration:   We had an incredible time at Bweyale & Bobi Village celebrating the 10-year anniversary of VOH. More than 800 children, staff and guests gathered together for dancing, singing, poems, laughter and LOTS of speeches about ALL God has done in the last 10 years! I think the best part for me was hearing our kids giving testimony to how their lives have been changed and forever transformed! From "hopeless to hope-filled", "no food to eating until their bellies are full", "being afraid to having a loving home", "not in school to making good grades."  I wish you...
---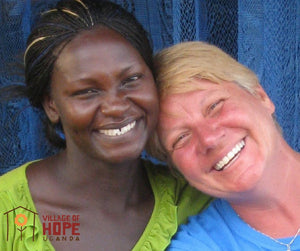 Have you wondered what we have in common with the people of Uganda?